A bridal photoshoot at the Zilker Botanical Gardens, Austin, Texas
Posted on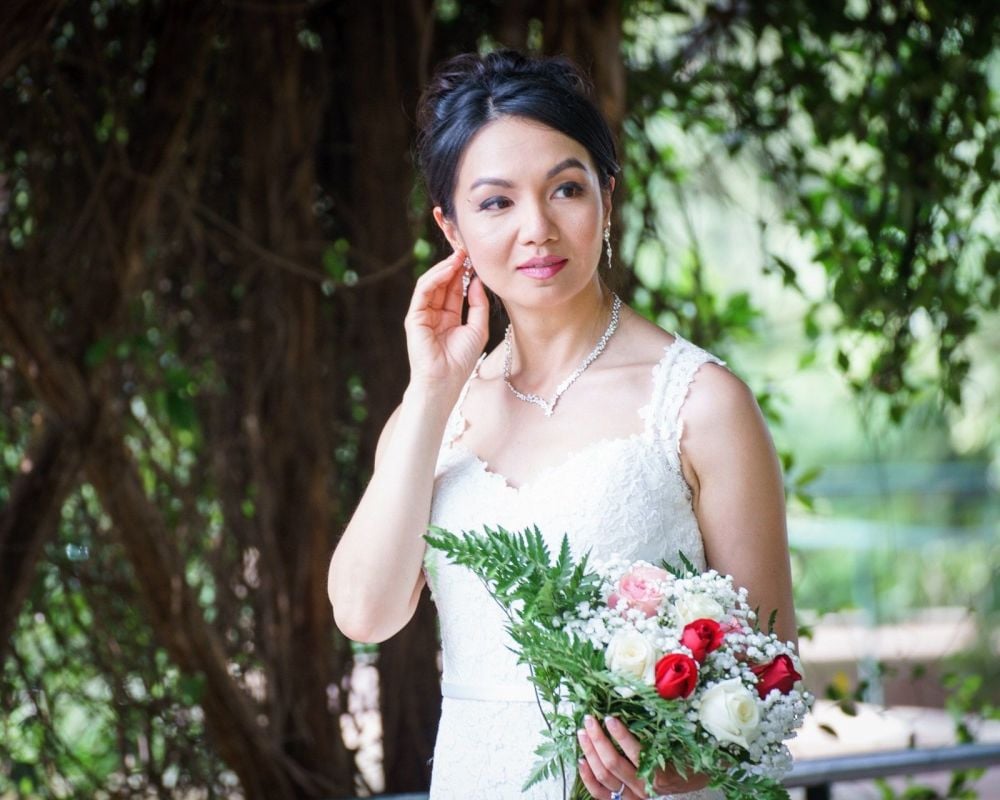 When Melanie had her bridal photoshoot at the Zilker Botanical Garden, groom Daniel was around, also taking photos from different angles to that of the wedding photographer. The results - the way a groom sees his new bride - were so beautiful that the couple agreed to share them with us.
The pictures were taken in the Isamu Taniguchi Japanese Garden within Zilker. One of the key features of the garden is the Togetsu-kyo bridge ("Bridge to Walk Over the Moon"), which has been positioned such that when the moon is high, it follows you across the bridge as a reflection on the water. "The idea is that as you gaze at the reflection of the moon on the water's surface, ultimate universal beauty will be revealed to you". Melanie has always reflected that as they were dating, Daniel had a way in making her feel beautiful in photos through the random snaps he would be taking every so often.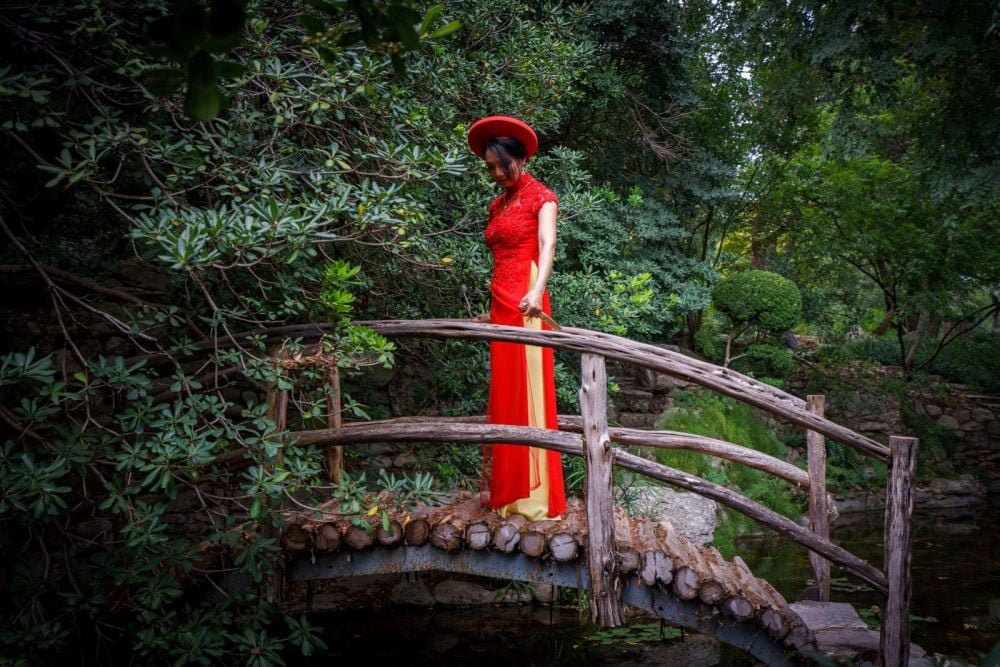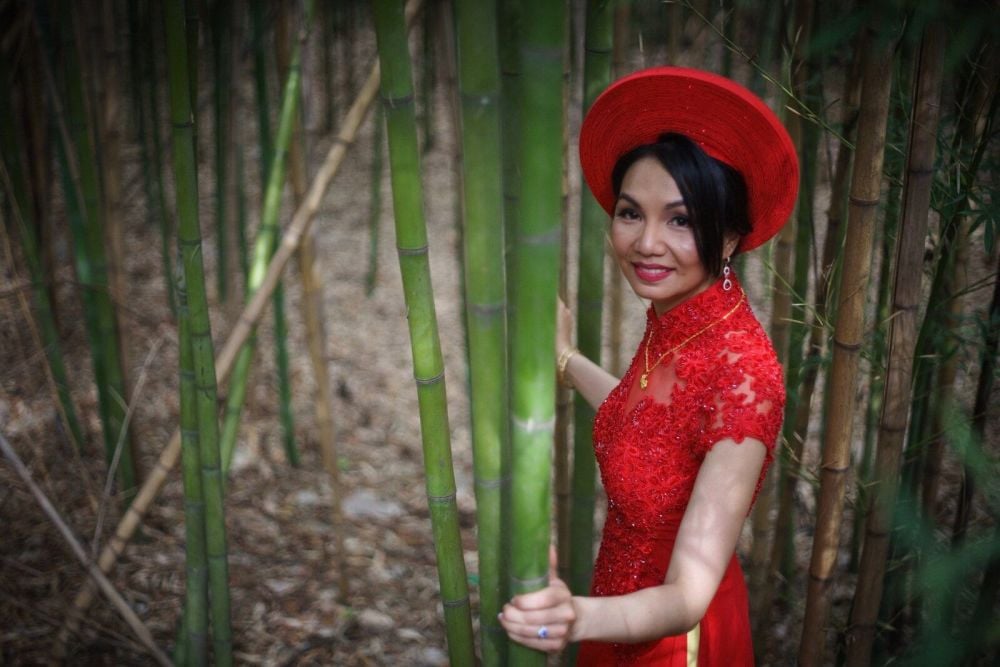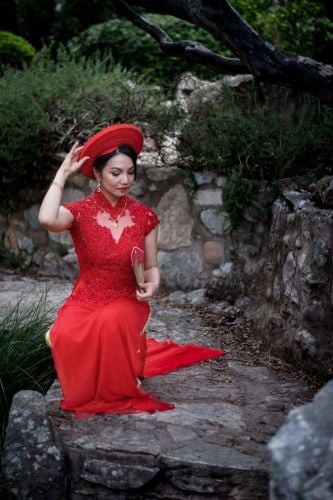 With a Vietnamese cultural heritage, the bride had two outfits for the wedding and photoshoot - an ivory wedding dress and a red traditional Vietnamese outfit, complete with the matching headgear. In Vietnamese tradition, red is believed to bring good luck to a newly married couple, so it is generally a predominant colour in weddings and the colour of choice for brides.
The traditional dress - an Ao Dai - is very much the dress to wear for any formal Vietnamese occasion. Typically, the Ao Dai is a closely fitted long silk tunic, with high collar, split on the sides from the waist down, and worn with loose trousers. The modern versions are often dresses worn with an under skirt or culottes. Here Melanie's version has a lace overlay on the bodice and is worn with contrasting yellow trousers, widened at the bottom to give the impression of a skirt.
The accompanying red headgear, called a Khan Dong or a Vietnamese turban, is normally worn by the bride to complement the dress. It is also worn during festivals and on other formal occasions, both by men and women. Although it looks like a hat, it is technically a bit more like a headband, made with a large number of fabric strips laid over each other as rings, and beautifully hand embellished. The higher the number of fabric rings, the wider the headgear, and of course, the more difficult the turban is to make. An interesting overview of the process and tradition of wearing the Vietnamese turban can be seen here.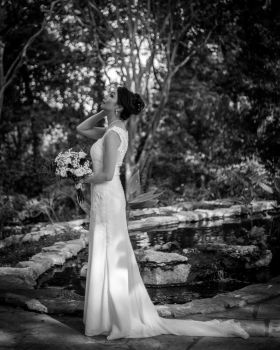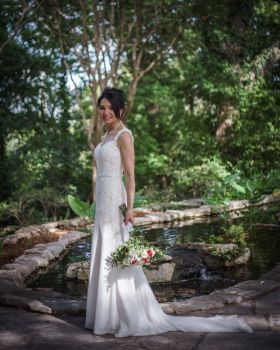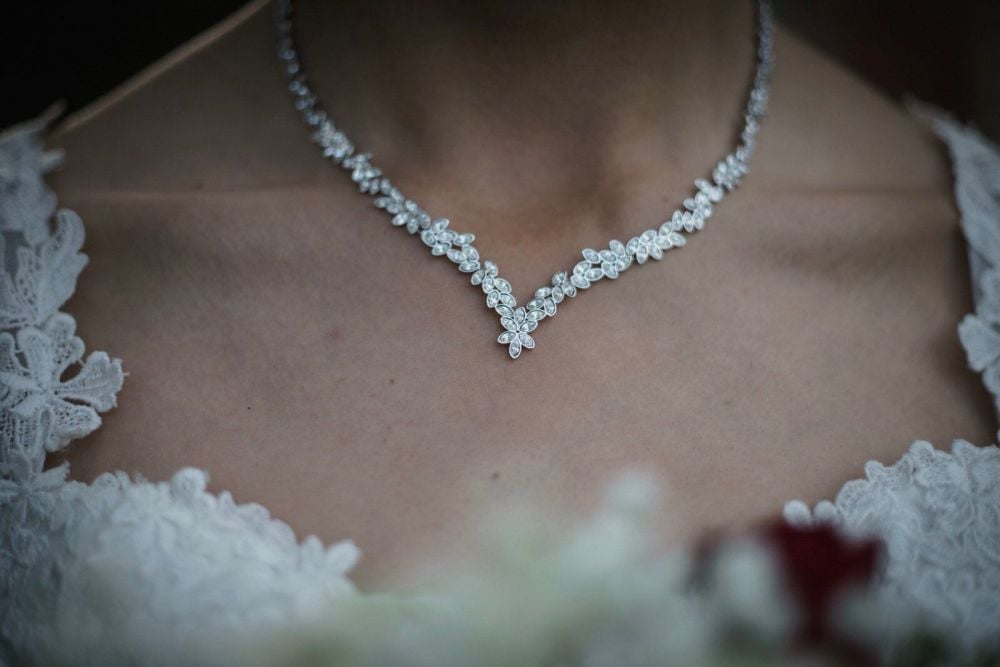 I hope that you enjoyed this little introduction to traditional Vietnamese wedding attire, and the beautiful photographs by Daniel Mullins. To see more of Daniel's work on landscape photography, check out his Instagram profile here.
Thank you to Daniel and Melanie for sharing their photos. To read more about their rustic ranch Texan wedding with a bit of French, Vietnamese and Moroccan elements, have a look at our blog post here.