Three tipis, two bespoke leather jackets and wedding boots...
Posted on
Emma and Richard tied the knot this spring at Stapleton Church, just outside Shrewsbury. They held their reception in Richard's parents' back garden, where three joined tipis squeezed into a corner of the garden, creating a spectacular 'secret garden' theme. In this blog, they share with us their beautiful and quirky story and wedding memories, with some advice on making your wedding unique and your own .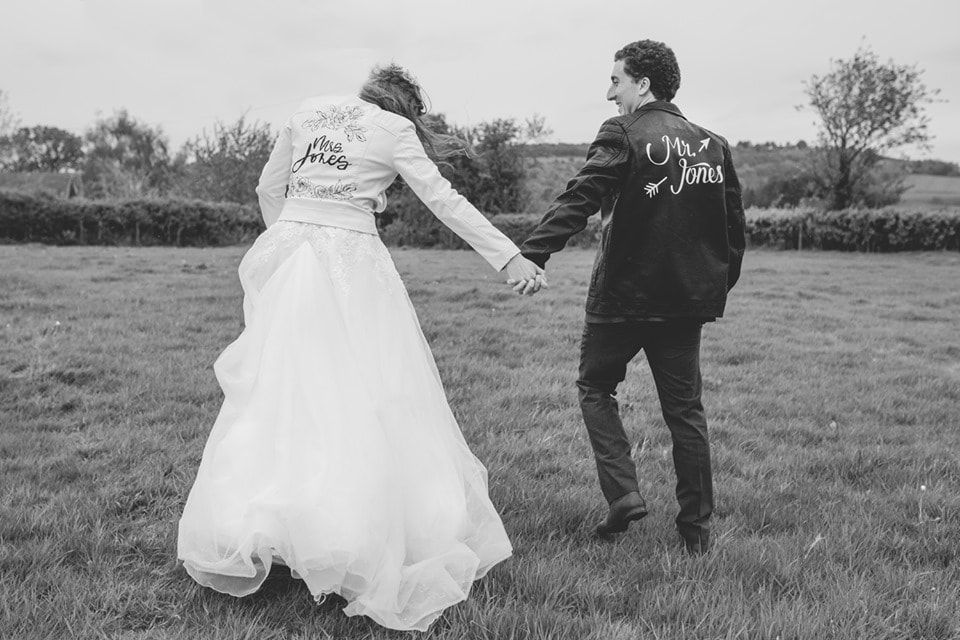 The pair met on match.com - it does work!! Emma says, "We had our first date at The Old Market Hall in Shrewsbury where we talked and drank more tea than a human being can consume in one sitting, until finally we had to leave as they were closing. We both knew then and there that we were onto something special."
Richard proposed in their kitchen. He had prepared her a meal that they had seen Mary Berry cook at a Good Food Show - duck and apple chips. "I hadn't even got through the door from work when he popped the question. He was very nervous and couldn't stand waiting any longer. It was simple, and perfect", Emma recalls.
The couple really took care to include both their personalities into their wedding celebrations, which made it all very personal as well as uniquely quirky and memorable. Richard and his family are very musical. They had a brass quartet playing in the ceremony, and Emma walked down the aisle to the quartet playing "Rule the World" by Take That. To add more musical elements, their confetti cones were homemade out of Richard's mum's old music sheets. "Rich and I love going to ceilidhs so we had a ceilidh as our entertainment in the evening."
Emma is a biker, so all her family and bridesmaids wore leather jackets and she wore white and gold boots as she can't live without her leather boots! Emma tells us, "I also wanted to wear a leather jacket on the day and so had the idea of painting a jacket with the words 'Mrs Jones'. I bought a really lovely jacket off ebay for next to nothing and painted a flower design on the back with leather paint, with the words 'Mrs Jones' in the middle. I'd never done anything like it before so I was really happy with the result. Rich loved it when I showed it to him so he decided to do one himself, although he cheated and bought an iron on vinyl that said Mr Jones. Not only was it a crowd pleaser, the evening was so cold that it was a life saver too!"
"Rich had the crazy idea of me arriving at the church in my brother's motorbike and sidecar because I am a biker. I was up for the idea but the sidecar was still in the 'project' stage as my brother was restoring it. The weather was pretty windy and rainy when I got to the church so I was glad that we decided on a classy Rolls Royce instead!"
As with any British wedding, one has to be prepared for any weather eventuality. The only little hiccups for this magical wedding were unsurprisingly mainly to do with the weather. Richard is a meteorologist, so nice weather tends to be rather boring for him! Of course, it had to be 'interesting' weather on their wedding day! It started with Richard and his family getting up at 5am to tie the tipis back down as they had come loose in the wind. They even had to get the tipi company out to try and secure it for the day. Thankfully Emma blissfully didn't know anything about this as she got ready in her nice warm cabin surrounded by her bridesmaids and family. She recalls, "The weather cleared up thankfully in the afternoon but it was still chilly for spring time - not helped by the fact that our blown air heating in the tipis ran out of gas and members of our families had to try and track down a new gas bottle".
The couple did most of the wedding organisation and decor by themselves, which was a lot of work as it was a completely DIY wedding. They rallied friends and family on the day and they all chipped in to make sure that everything was running smoothly. They made all the decorations themselves, so everything had a 'homemade' feel to it. And a fabulous quirky idea was that of having a guest 'bench' rather than a guest book which is now in their garden: "We love reading all the messages when we sit in the garden".
With all the hard work put into the preparations, Emma and Richard remind us that all of it is actually rather unimportant considering what was actually happening on the day, i.e. getting married, making a commitment to each other. "When you're wedding planning you get very bogged down in the details of the table decorations and how the dress is going to look and so on but that was all forgotten as soon as we said our vows. For both of us, it was like there was no one else in the room when we said out vows and it was truly magical - definitely the best and most important moment of the day!"
What would be their advice to couples getting married? "I think it's the advice that everyone gave me beforehand - what matters is that you are getting married, not the decorations or the guests or the venue. The day is an absolute blur and we made a real effort to have moments together. Our photographer commented how much we were together on the day and that was because we made sure that we didn't experience our wedding day separately as we had seen so many couples do at weddings."
And their advice to couples looking for something a little different and fun? "Pinterest is your best friend! And also don't be afraid to make things yourself - we bought so much stuff from Facebook groups and it was a great way to find interesting and quirky things. We made our decorations out of embroidery hoops and hula hoops, garden string and artificial flowers and it looked great."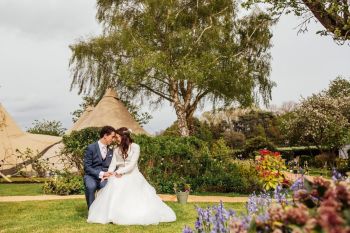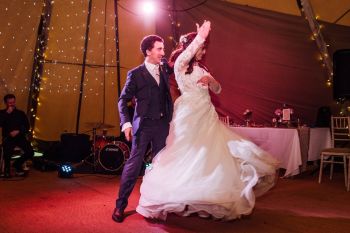 -------------------------------
Photography by
Florence Fox
with permission from Emma and Richard. Thank you :-) To see more of Florence's work, pop over to her website
here
.
Emma's gorgeous dress fitted perfectly but the length was altered by Sharon at Blue Lily Magnolia.