Let's talk about... Your bridesmaids!
Posted on
The wedding season is in full swing, but 2019 is not yet over and still plenty of ladies and gents planning ahead for this year and next. Today in my little series of 'Let's talk about', which is about preparing for your wedding, I chat with Yifan Nairn from Yifan Nairn Designs, whom I have known for now over 15 years since our days at the School of Textiles and Design at Heriot-Watt University. Yifan and I, in a now distant memory, used to design and make wedding and formal dresses together, but we have now branched out into different areas. Yifan is passionate about helping independent women gain confidence and feel amazing about themselves by styling, designing and making outfits that show their personality. She has been in the fashion industry for over 20 years and has been designing and making bridal dresses in the last 5 years as well as providing colour analysis and wardrobe editing service to ladies who feel trapped in a style that doesn't reflect who they truly are.
The topic that we will cover this month is the tricky subject of picking a colour and style for your bridesmaids. If you're lucky enough to find that all your bridesmaids have similar skin tone, hair colour, and body shape, choosing bridemaids outfits is a breeze. In reality, most couples will end up with a range of silhouettes and skin/hair combinations, which in some cases can make it quite tricky for the bride (let's face it, most grooms don't get into the details of bridesmaids planning!). How do you make sure everyone looks and feels great? How do you get your bridesmaids to look amazing and happy next to you? Here are some questions I posed to Yifan:
What are the popular colours at the moment for weddings and bridesmaids?
2019 is all about bold colours if you have been paying attention to what's selling in the shops. The wedding colour palette this year is a mixture of soft hues and pop of colours. The popular colours are Dusty Rose, Dusty Blue, Silver Sage, Mauve, Sunset, Rose/Wine and Yellow. It isn't uncommon now that bridesmaids mix and match the colours and even different styles.
What should brides consider when picking a colour theme for their bridesmaids?
Most of you would book the venue first before carry on with anything else. The venue decides the atmosphere and theme for the whole event. First, I'd suggest you to consider the overall wedding colour theme based on where is the wedding reception is going to be. Is is an outdoor wedding? A barn? A castle? A hotel? The venue sets the tone for the overall wedding colour theme and what you choose for your bridesmaids should fit into the bigger picture. Secondly, consider which season is your wedding day going to be in. The background colours change massively from season to season which will effect how your wedding photo would look like. Last but not the least, make sure your bridesmaids are included in the decision about what colour dress they will be wearing. You do want them to smile on your wedding photos, don't you? I often use https://www.colourpalette.net to look for colour inspirations.
How can they make sure everyone looks great in the choice being made?
This question makes me laugh, thinking about the film '27 Dresses'. If you realise you're going to look at your wedding photos for the next 50+ years, you'd know the decision on bridesmaids dresses is just as important as choosing your own wedding dress. It's a good idea to make these lovely ladies look and feel wonderful so that they smile even when they don't think they're being photographed! If you have more than two bridesmaids, it can be tricky to get everyone agree on one colour and style. You're very lucky if you do! We all have different skin undertones, features, body shapes and personality. So if you struggle to agree on colours, consider to choose from one of these universal colours which means these colours suit just about everyone.
- Teal
- Purple
- Emerald Turquoise
- Lilac (or lavender)
These colours are also perfect for gentlemen's waistcoats, napkins, stationery, flowers etc.
If you prefer all your bridesmaids to wear the same colour and you manage to agree on one, congratulations! Job's almost done. If you've agreed on one colour, you can maybe be a little bit more relaxed about the style if your bridesmaids are more specific about the styles that suit them. I'd stick to either same colour with different styles or same style with different colours, otherwise it can look messy and hard to pull off.
Can you share some basic colour rules for our readers?
If you're going for mixed colours for your bridesmaids dresses, I'd stay in the same tint, tone or shade. For example, lilac and sage go well together because they have similar level of white in them. If you're choosing bold colours for the bridesmaids dresses, the same rule applies, try to keep them in the same shade. Always picture how the colours would look like with the backdrop. It's like designing your own magazine cover. Make it fun!

And for the final words, any advice for brides on choosing a style for their bridesmaids?
There isn't one style fits all magic pill because we all have different body shapes. Certain style looks fantastic on one bridesmaids might be the others' worst nightmare. If you must choose only one style, wrap dress or empire dress style would be your best bet because they look okay on just about any body shapes. Try not to force a girl into a sleeveless dress when she's conscious about her arms. In terms of necklines, halter neck has become
popular but it's not everyone's cup of tea. As long as you keep an element of unity, such as skirt length or colour, even with different necklines and silhouettes you'll look fabulously put together.
To contact Yifan, pop over to her website or email her directly at [email protected].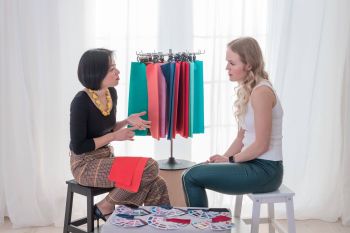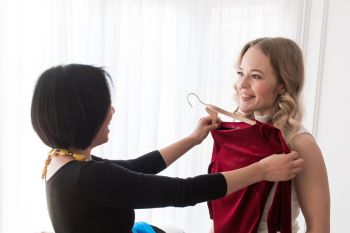 Yifan Nairn Designs offers bespoke bridal party colour & style package. It's a get-together mini party: bride, groom, mother of bride/groom, bridesmaids, best man, ushers etc. Along with some bubblies, you'll be receiving advice on wedding colour theme, outfits colours on all bridal parties including hints and tips on jewellery, shoes, button-holes, flowers, make-up, hair accessories, handbags, hair colours etc.
---------------
This blog is compiled by Blue Lily Magnolia, provider of bespoke and alteration services for wedding and bridesmaid dresses and accessories. Photography has been supplied by Yifan, with permission to share.