Why I'm Loving this Winter's Trends
Posted on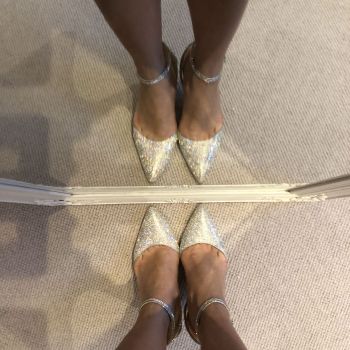 A trip to the shops gives you a pretty much instant idea on the current fashion and accessories trends. Some things are still here from last year: sequins, lots of bling, pleated skirts and animal prints. Last year, I thought that all these sparkly and shiny things were way too much for me, but after a year of it, my eyes have become accustomed to the disco ball look and I am totally embracing it! Animal prints are rather classic, so I will not be surprised if they turn up next autumn winter too.
Things that I noticed were new this year: stars, velvet and big sleeves... I'm loving the cute star prints, star jewellery, and luxurious soft velvets on jumpsuits, long dresses, or even trousers, but the big sleeves are my absolute favourite this season. I must admit that the giant shoulders are not quite my thing, being quite petite in height and frame. I don't quite like the look of an inverted triangle, or even a big rectangle or square (if you happen to be a bit more peary in shape). But big sheer sleeves, yes please! Why? Well, for a start, I for once, am a huge fan of 'comfort' winning on style. And in the winter, it's cold! Sleeves are just the thing when going out an evening, without feeling like you will have to cross the tundra before reaching the bar.
Secondly, my flabby arms are one of the things that I don't like about myself (like many people of course, there are lots of other little niggles that I am unhappy about, but let's not dwell on those!). So sleeves are perfect to hide these little arm imperfections, whether you have bingo wings, big arms, hairy armpits, pasty arms and other arm related issues! And sheer sleeves are even better in my opinion because they give the illusion of having your arms out, without actually revealing much detail.
And finally, after years of seeing people's shoulders out - strapless, little straps, complex straps, skinny spaghetti straps, boob tubes and the lot, it's actually lovely to see interesting shapes and textures being added on the arms and shoulders. My favourite is definitely any form of transparent fabric on the arms, whether it's a shape-holding organza for a bit of pouffiness, soft chiffon for boho flow, textured lace for a bit of a more classic look, or pretty embroidered tulle for a bit of quirkiness, I love them all.
So as a little treat for myself, I made myself a dress for a Christmas party this year. And of course, it included big sleeves (I chose chiffon for a flowy style), velvet, and unsurprisingly for me, it was black. My husband bought me some sparkly shoes to match. And on my Christmas list this year, I've put a cute little star necklace... I'll have to wait and see if it will appear under the tree on Christmas morning!
For now, wishing you all a very happy Christmas and a wonderful new year, and looking forward to seeing you in 2020!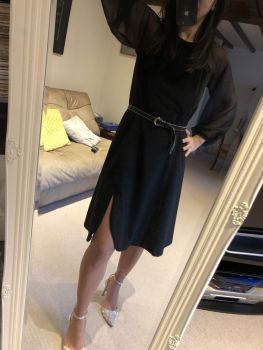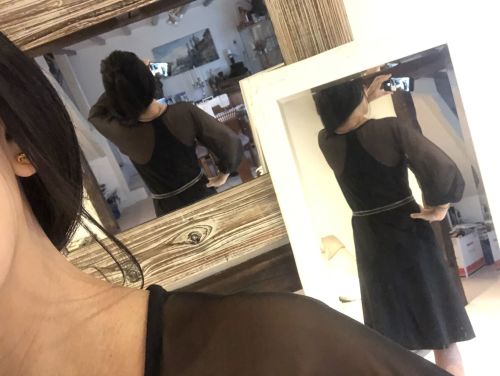 ---------------------
Blue Lily Magnolia, Nantwich, Cheshire - makes bespoke dresses and accessories for formal occasions, weddings. For any queries on dress making or alterations, please contact Sharon on 07766766573, or email [email protected]