A perfect relaxed, classic and romantic wedding at Dromquinna Manor, Co. Kerry
Posted on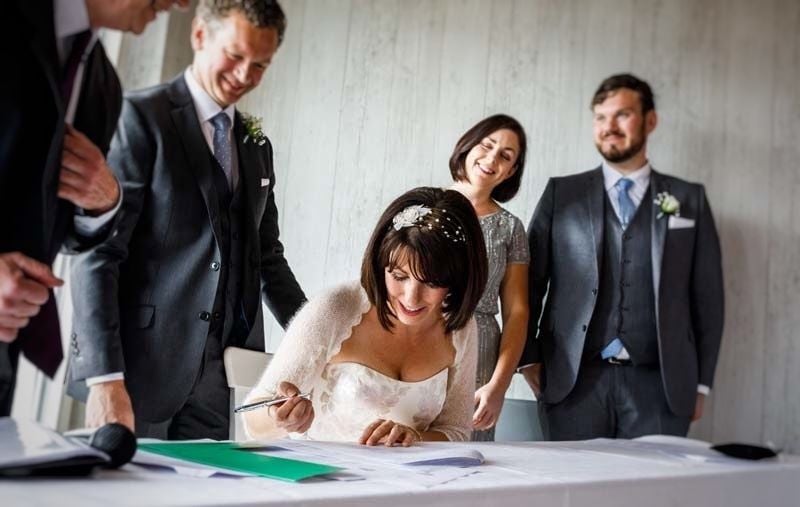 Jo and Gar met in Galway in Ireland in 2006 and went on to live in 3 other countries - separately and together - before finally coming back to Ireland in 2014 and getting engaged in 2016. They married in 2017 in Dromquinna Manor, Kenmare, Co. Kerry. Here's their beautiful story, as told by Jo:
"We met in the summer of 2006, and within a few weeks together Gar told me he was moving to America, at first I wasn't too bothered, after all it had only been a few weeks, but pretty soon I started to realise I was! The nicest guy I'd ever met was moving away. I was heartbroken when he left in November and went on my first visit to Boston for two weeks in December. I went for another two weeks in the spring and moved there for the summer 2007. Every cent that year went to funding these trips and in between we lived on Skype. In October I moved to Montreal to be near to him (just a six hour drive...nothing compared to a six hour flight!) and the following spring he moved up to Montreal to me. In 2009 we moved to Edinburgh and in 2014 we moved home to Ireland. In 2015 we bought a house and found our dog Domino, so it looks as though we're staying put for now."
The proposal was a big surprise for Jo: "It was an unusual day in that for some reason I happened to be up early on a Saturday (I usually don't stir till 11 or so). On this particular day by 9.30am Gar had somehow got me up and out for a walk on a local beach, Whitegate, one of our favourite spots and a hidden gem in Ireland. It was a lovely sunny morning and out of the blue he got down on one knee. I was totally taken by surprise! For some reason I always thought I'd have an inkling it was coming...I didn't!"
The couple was engaged for 16 months. "This felt like the perfect length engagement for us. It gave us enough time to plan everything at a nice pace and enjoy the process, but at the same time, by the time the big day rolled around we were ready for it. I wouldn't have liked if it had been too much longer. Wedding talk could get tiresome if it goes on too long and I think we were both happy enough to get back to other things."
Amongst other things, the venue of course is a big decision. "We saw a few venues prior to Dromquinna Manor, but upon pulling up in the drive there I think we knew this was the right place for us. We wanted a private venue, a fab ceremony location, amazing scenery, in a nice Irish town. Dromquinna ticked all the boxes. We picked a few key words to try to keep us on track with the wedding planning - I think our words were fun, relaxed, classic, romantic and personal. These words summed up the kind of wedding we had in mind and I think in retrospect we succeeded with all of them."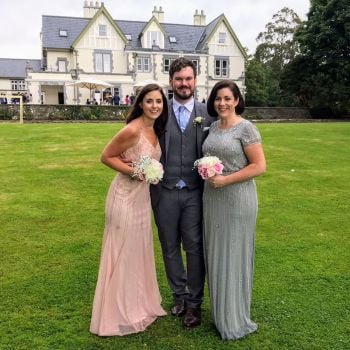 The colour scheme for the wedding was muted and soft. Jo's dress was ivory with hand-painted blush silk flowers and a champagne coloured sash. The rest of the bridal party fitted in with this - blush pink and dusty blue bridesmaid dresses and grey suits. "I was delighted to find my lovely gold and pearl headpiece on Blue Lily Magnolia which went perfectly. Gar's sister was a grooms person so she had a grey dress to fit in with his side but in the same style as the bridesmaids - beaded Adrianna Papell gowns which I searched high and low for to get in the right sizes on sale!"
Jo's advice to couples looking for suppliers for their wedding is to "Know what's important to you". "Good food and venue was very important to us and so once we had Dromquinna picked that all was sorted. Music was next - we ended up with two brilliant bands on the day; Souldriven and The Clandestinos - they really got the party started. We watched a lot of YouTube videos of bands. I think it's important to figure out what you want in advance and keep it firmly in mind till you find it...otherwise it can be overwhelming and confusing. There's a lot of options out there for everything wedding related and it takes a bit of research work so stick with it and hopefully you'll find what you're looking for."
Not everything needs to be bought in, of course. "Myself and my mom did the flowers which turned out great and this was fun to do. We just watched a few YouTube tutorials and just went for it. Keep in mind though that they need to be done in the days right before the big day so finding the time needs to be planned."
The big day itself was amazing. "I had been worried about the weather in the days leading up to it. On the day it was pretty miserable for the entire morning - it rained and drizzled until 3pm but when it came to it I just didn't care. I honestly couldn't have been happier so the weather didn't matter. Luckily however it did clear up during the ceremony and by the time the drinks reception started it had turned into a pretty decent day. I knew I didn't want to be a stressed out bride and my cheesy motto for the day was taken directly from Frozen ..."Let it go"! I actually surprised myself with how much I was able to do this. I didn't mind about the weather, I didn't mind that the wind and rain messed my hair or that my husband stood on my dress with a muddy shoe! It was all perfect regardless. My number one tip is let it go...and just go with it."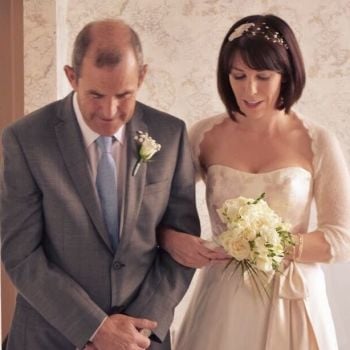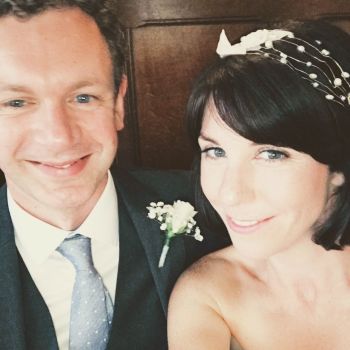 "One of the best bits of the wedding was the honeymoon travelling around Mexico and Belize. We haven't had the opportunity to go away for that length of time (18 days) ever so that was really special." But thinking about the wedding day itself, "
My most precious moments on the day were definitely the unplanned ones - chilling out by the waterfront at sunset, sitting around the bonfire and our last dance surrounded by family and friends. There's no point in over-planning and trying to map out every second...the best bits will just happen naturally."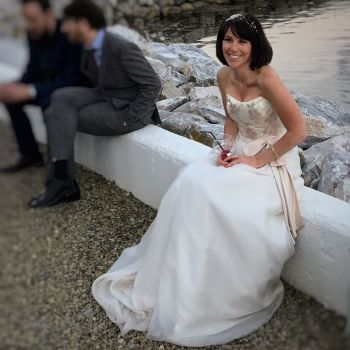 --------------------------------------------------------------------
A big thank you to Jo and Gar for sharing their story and photos, and congratulations to them both on their wedding!
Photos supplied courtesy of Jo (and cropped and slightly blurred by me).
On her hair, Jo wore a Blue Lily Magnolia one-of-a-kind headpiece of golden wire, ivory beads and vintage lace flowers, part of the
Bohemian Dreams collection
.