A beautifully eclectic event with this Texan, French and Vietnamese wedding, with a little bit of Moroccan added!
Posted on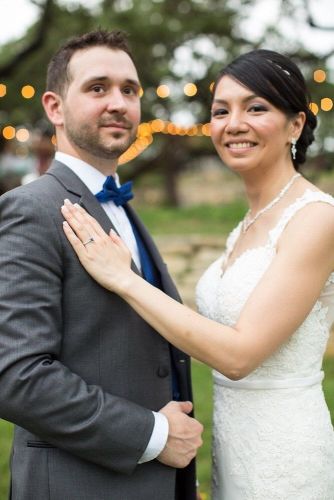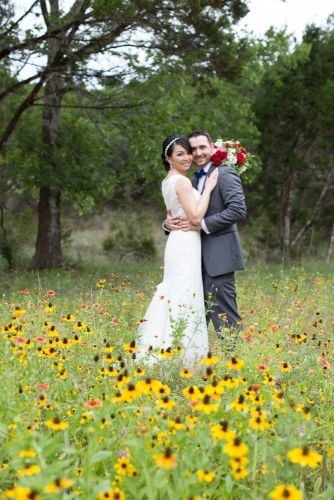 You can't get more of a mix than with the amazing wedding of Melanie and Daniel. In this blog, Melanie shares with us her story from the very beginnings and the key highlights of their beautiful wedding day.
"We met online via a dating website in 2013. That was my first time trying out online dating and I think I got lucky because my husband was the 2nd guy I met in person via the website. I am French Vietnamese and he is Texan. I was attracted to him right away but for him it took a little bit longer for him to call me back for another date. Love and attraction is very interesting in a sense that everyone moves along at their own pace and I really have the feeling that it took some time before we started being on the same wavelength. But once we got there, we were hooked to each other. He is passionate about photography, landscape and nature in particular and that was one of the main feature I loved about him. Also, I didn't really care to take pictures of myself for the longest time, and as we were dating, he managed to make me feel beautiful in pictures as he would snap random ones every so often. He taught me how to camp, and get that adventurous side of me out which I always wanted to."

As with many couples (mine included!!), proposals don't always go to plan, and for Daniel a little bit of improvisation was required. Melanie recounts: "During the New Year holiday in 2015, we went to Colorado Springs, CO and he was hoping to propose at the top of Pikes Peak as we had planned on taking a train ride to the top of the mountain. Unfortunately, the weather wasn't cooperating with his plan and the train ride could not take us to the very top, but only midway. Therefore, he had to find another idea and he was quite bumped about it. On December 31st, 2015, we drove to the Gardens of the Gods (a public park in Colorado Springs) which faces Pikes Peak, to see the glorious fireworks display from the summit to usher in the New Year. We went a couple of hours early to make sure we would get a good parking spot. We were in the car, it was freezing cold and he proposed then… completely warmed up my heart and I of course said "Yes"! This made the firework celebration even more amazing for us!"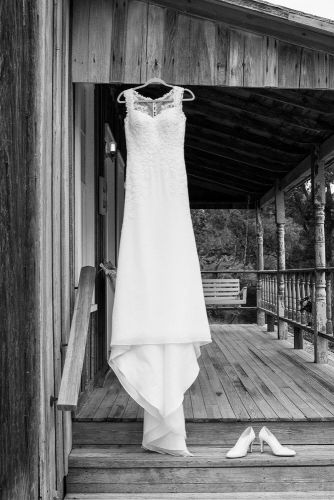 The couple wanted their wedding to represent them together, by combining elements that show who they are individually. Daniel loves mountains, so getting a hilly landscape was a good compromise. They chose to get married in a lovely town called Wimberley, in the Texas Hill Country. Both wanted the wedding to have a rustic feel and be close to nature, but also incorporate French gastronomy and Vietnamese culture. "We wanted the ceremony to occur under a big oak tree because a tree represents life, the idea of growing old together, and overcoming obstacles. We came across the perfect venue called "Rustic Ranch" which had all the elements we were looking for. Therefore we had the ceremony outdoor and the reception mostly indoor with a saloon and dance hall. The history of the venue itself was quite attractive to us as well: the owner, Kevin Fowler (famous country singer), picked out each of the buildings (Bridal house, Groom's house, Reception building, …) and had them shipped to his land from everywhere in the US and to make it a wedding venue. These buildings include for example an 1800s log cabin and a 1900s farm house."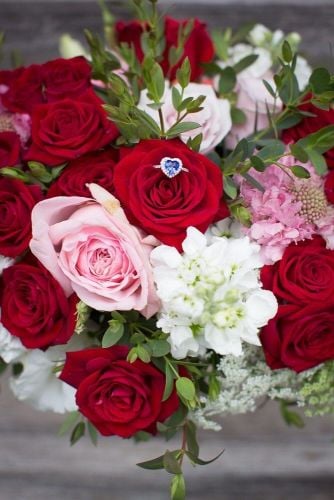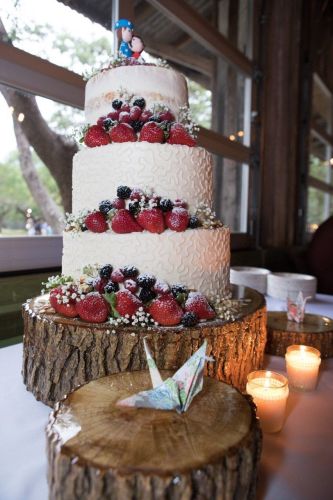 The wedding cake, sitting on top of a rustic log slice, also complemented the rustic look. Melanie explains how the venue and wedding elements came together: "The venue itself already came with a lot of greeneries for the nature side of it, and the ranch for the country side of it, which both represent my husband quite well. We added my French touch with French wine, cheese platters with French baguettes for the cocktail hour and of course French "macarons" for dessert. We had displayed three of our favourite engagement pictures that where taken in Paris with the Eiffel Tower and at Versailles."
The wedding colour scheme was a combination of red (main colour), light pink and white, which is beautifully summed up in the bouquet by Jones Florals, and continues across the wedding theme. The couple, in line with Vietnamese traditions, had a change of outfit after dinner - swapping the traditional white dress and tuxedo to traditional Vietnamese wedding outfits, bright red for the bride. In Vietnamese beliefs, the red colour is meant to bring luck to the young couple. Melanie continues: "We also picked that colour along with light pink because they represent the colour of LOVE. White was used to create a mood of peace and comfort for the two families and friends getting together for our marriage. This was used also for the ceremony decor."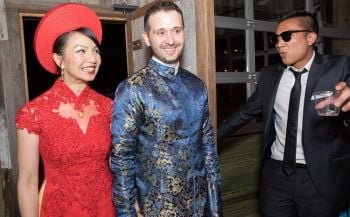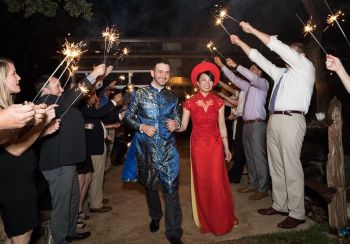 To add more to the uniqueness of their wedding, the couple had Moroccan souk food for dinner. With the other elements of their backgrounds already in the venue and other wedding aspects, Melanie explains: "We didn't wanted to do Texas Barbecue or Vietnamese / Asian food and I knew The Flying Carpet restaurant (they are family friends) in Austin, TX. The caterers are husband and wife, the husband is French Moroccan and his wife is American Mexican. I have always loved Moroccan food and had my husband try it one night and he was hooked right away. Everyone seemed to have enjoyed the dinner at the wedding, and it made it eclectic and unique."
When asked about the most memorable moments of the day, Melanie responds: "The best part of our big day for me was to finally walk down the aisle with my dad, seeing everyone that came for us, all the familiar faces and my future husband with tears in his eyes as he sees me coming."
There were some funny moments too, notably: "For our ceremony, we had a French translator (who was my cousin), and for the last part of the ceremony speech, where the celebrant says "you may seal your vows with a kiss", the translator may have been distracted as he remained silent for a while while us, bride and groom, were just waiting for him to translate because we eager to finally get to kiss. We both turned and looked over to him and he finally realised it was his time to speak! It made us and the entire guest crowd laugh to end the ceremony and it was great!"

And of course, being a wedding, there were bound to be romantic moments. "Our first dance… neither I nor him can dance. We took dance classes - 12 classes in 2 weeks prior to the wedding! We think it surprised everyone when we started our choreography and we got a lot of cheering and screams from the guests. Our choreography was based on rumba steps included 4 figures and a dip at the end with a kiss on James Arthur's song, "Say you won't let go". We may never do this again, who knows, but it will be a great memory forever."

Did everything go as planned on the day? The weather nearly got in the way, which can be a bit stressful for everyone planning an outdoor wedding. Our bride recalls: "The forecast predicted 90% chance of rain all week for that Sunday afternoon. I was really upset about it because the main reason for choosing the venue was for the outdoor ceremony under the big old oak tree. On the day of the wedding, my wedding coordinator asked if I wanted to setup the ceremony indoors, because of the forecasts. Looking at the sky, it didn't look bad so I said no, and told them to keep base plan as is and setup the ceremony outside. My wedding coordinator agreed and kept plan B in her back pocket just in case. At the end, it didn't rain at all during the ceremony! We had the sun and a little breeze to cool off from the Texas spring heat, and it was beautiful. We were so pleased. Rain came a few hours later at dinner time during the reception while everyone was inside already. We are very thankful for the weather we had that day."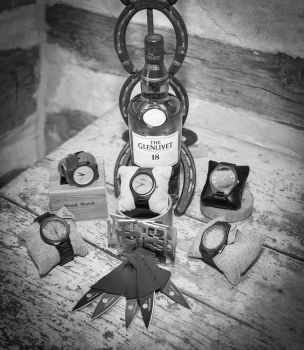 "Everything did not go as I planned, but everything that happened did go as we imagined! Time did not allow to do everything that I had on our schedule but my wedding planner did a great job at coordinating everything and following the timeline as much as possible. I believe we got 90% of the timeline completed. For example, we skipped getting couple pictures done prior to the ceremony, what they called "no look" behind a door, and we have no regrets about those. Another example, during our first dance, we did not start in the correct orientation to end the dance facing our guests for the dip (and it was my fault!), but my husband managed to improvise at the end and get us in the correct orientation for the important dip and the pictures! Everyone had tons of fun during the wedding, especially with the photobooth by the Classic Photo Booth Co., which had a lot of success. We would recommend it to anyone throwing a party."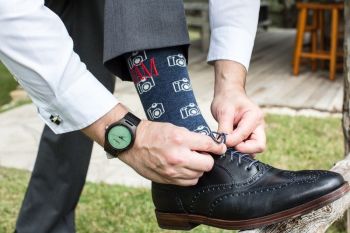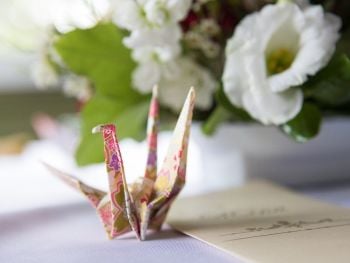 And finally, Melanie shares with us her advice to brides-to-be and couples planning their wedding:
- Make sure you look at what the venue already has to offer as far as decor and ambiance. It's easy to get overwhelmed with ideas with website such as Pinterest and wedding websites and wanting to do more than is required.
- Ask your family and friends to help out with DIY. We saved quite a bit of money by doing that, and our family and friends did an amazing job for us on the wedding day to help us set up and decorate.
- Take dancing classes if, like us, you don't feel confident about your dancing skills. It was a great experience for us to meet a dancing instructor and to learn so quickly!
- Talk with your wedding planner/coordinator with regards to timeline and confirm which event you would be really upset about if they do not occur, and which one you are ok to let go if time doesn't allow it.
- Have a plan B in case of rain.
- Have a realistic budget and try to stick to it as much as possible.
- Check out Etsy for hand made items that are unique and special! You can usually find a better deal than going to the mall or wedding stores.


-----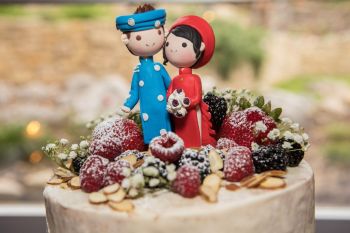 Thank you to Melanie and Daniel for sharing their wedding day with us. The photo credits are for Steven Ruud Photography. Melanie wore a Parvani Vida ivory dress, and her hair was done by the Bridal Beauty Salon. The wedding cake was made by Cakes by Jerry.
Blue Lily Magnolia supplied the made-to-measure skinny ivory wedding belt to match the gorgeous lace dress.