A traditional Scottish wedding down under, combining vintage and beach
Posted on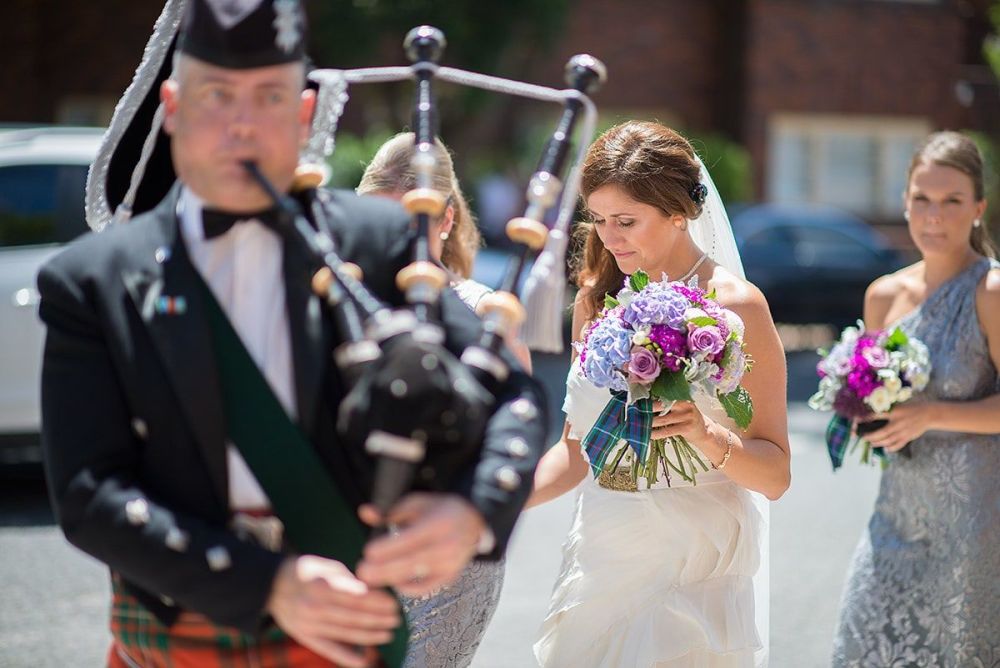 Vintage and beach come together beautifully in this traditional Scottish themed wedding in Australia. Carla and Donato met on Coogie Beach in 2008, and early this year, were back there to get married at Wylies Baths. But between the proposal at Byron Bay Lighthouse and the wedding, the couple had a lot on their plate - not only organising the wedding but also having a little girl!
Carla says, "After a lot of thinking and trying to plan the best destination, we always knew that we wanted to get married at Coogee and have a beachy wedding with a touch of vintage. I called it Bintage if there's such a theme... well there is now!"
The couple wanted to weave in as much of Donato's Scottish heritage as possible especially as they were not marrying back in Scotland where he is from, nor England where Carla is from. "Donato is from a small fishing town called Eyemouth and we were always going to have kilts at the wedding in keeping with a traditional Scottish theme. My grandad (dad's dad) was also Scottish, so it was really special that it was an integral part of our day." True to Scottish traditions, a bagpiper welcomed the guests, accompanied the bride to the church, and also played while everyone walked out of the church and down the street to the pub for a few drinks.
The wedding day was full of little details and personal touches. Matching the Mackenzie tartan kilts worn by the groom's family, they also wrapped tartan ribbon around the table napkins, and on the bouquets. Little Mackenzie tartan flowers were also made for the bride's hair, and for the men's boutonnieres. In keeping with the Scottish theme, the grooms's party had engraved hipflasks and miniature whisky bottles and Donato also bought matching cufflinks for his bestman and groomsmen.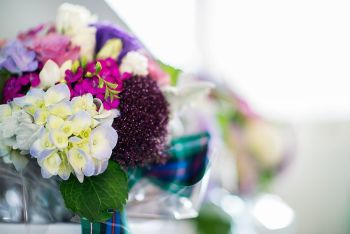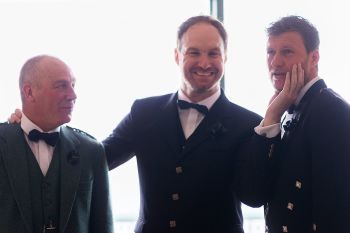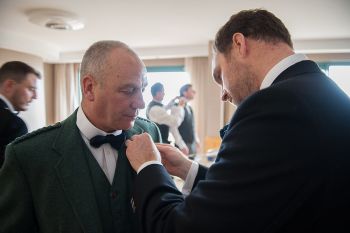 Carla continues, "I asked my friend to write everyone's name plates in calligraphy, as each envelope had a card inside with a little note for each guest, more of a keepsake really as we didn't have favours on the tables. And we did our own table setting centre pieces, with personalised initials on the mats (from Etsy), candles and gyspsophila, keeping it very simple."
For a little vintage touch, Carla wore an ivory sash with a vintage buckle to accessorise her Karen Willis Holmes dress. The bridesmaids' vintage glam style dresses were Montique from a department store in Sydney. "I also found a French vintage oar that we used on the welcome table and hung hearts off it. My aunt, who travelled over to be here, bought me the beautiful vintage rope necklace that I found only a few days before the wedding."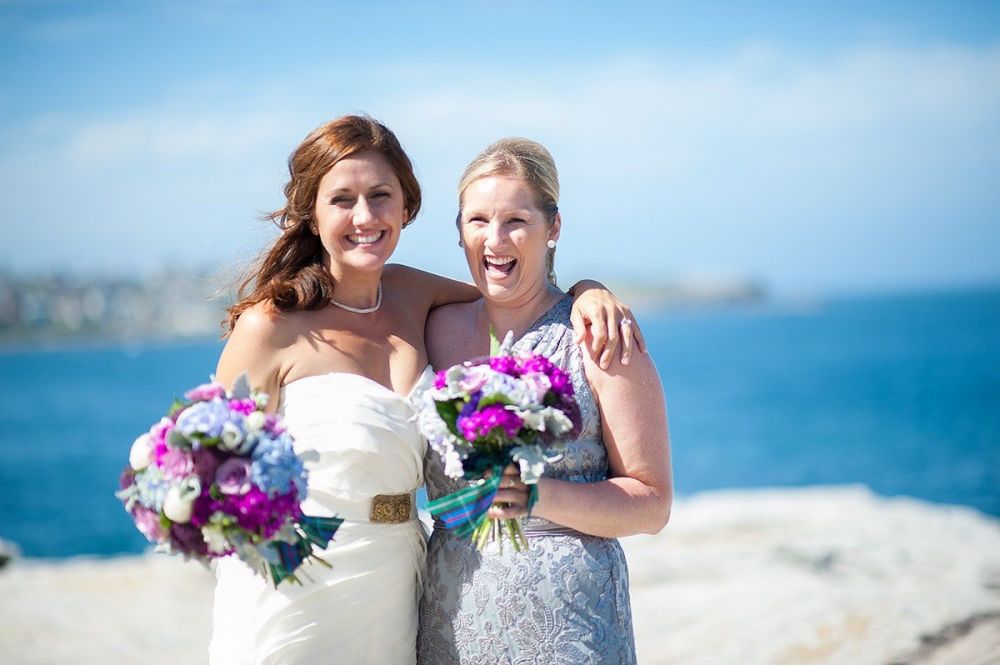 The best part of the wedding day? "It was all great", says Carla. "The best part for me was the morning getting ready with my best friends and my daughter, having my dad and aunt call in too. Then the ceremony was beautiful and we had a good hour and a half on the rocks in Coogee having drinks, our photos and chatting with the bridal party, it was lovely. It was all very special, the venue, the speeches, the dancing, it was one big celebration."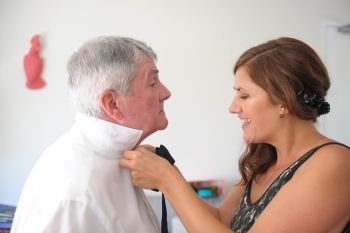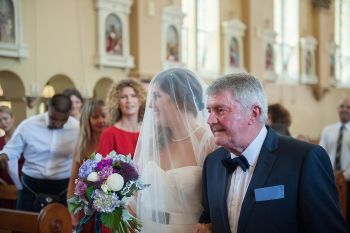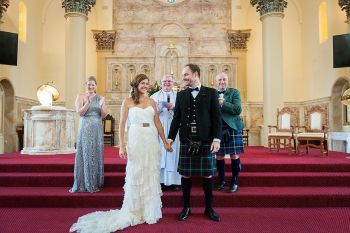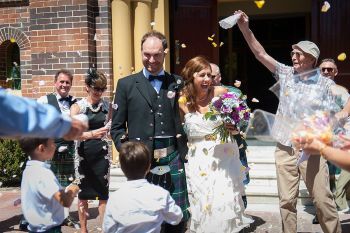 The final words by Carla, her tips to any bride: "Remember to eat a decent breakfast! I didn't and got a bit too merry too quickly! Haha!"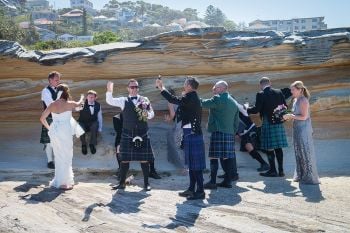 ------------------------------
For this wedding, Blue Lily Magnolia sourced a Mackenzie tartan fabric to make the hair flowers and boutonnieres, and also supplied the vintage buckle sash.
Photos credit: Kevin Cheung, courtesy of the bride
A big thank you to Carla and Donato for sharing their beautiful photos and special moments. We wish them the very best for the future - and many more happy days at Coogie beach!