Planning a Festival Wedding - Tips from the Bride and Groom
Posted on
Last month I shared with you a "Nautical Punk Rock Festival Wedding" - the amazing wedding of Jess and Dan, which was featured on the Rock n Roll Bride blog. I had the honour of making the bouquet, corsages, and men's boutonnieres for the wedding and this month, the newly weds kindly share with us their advice, recommendations and tips on organising and enjoying their perfect wedding. Read on the Rock n Roll Bride blog for more detail of their unique festival, music-centred wedding, and here, we have just a little bit more to help you get on with your own planning!
Thank you Jess and Dan for sharing your experience with us! xxx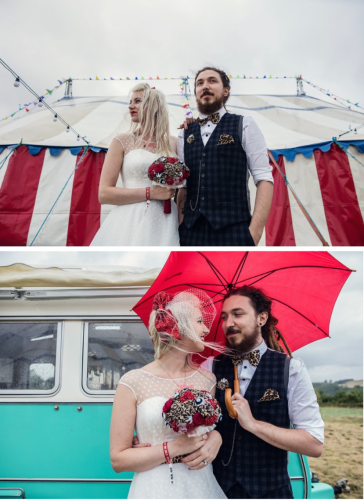 1) After you'd agreed on your theme for the wedding, where did you go for inspiration and ideas on how to turn your vision to reality?
We used all sorts of resources as inspiration - Pinterest, alternative wedding blogs, punk festivals and traditional tattoo styles!
Our theme was based on our love of punk-rock, 50s style, polaroid photography and of course, music. we were ultimately trying to throw a kind of festival-party that we would love to attend. We didn't want a generic wedding band or DJ playing chart music, we wanted it to be like a festival or gig that we'd look forward to going to - all the bands we booked were bands that we have seen live at gigs/festivals or have been desperate to see and just not had the opportunity yet.
2) Did you attend any wedding shows that you'd recommend, specifically for alternative ideas?
We went to the Eclectic Wedding Extravaganza - it's aimed at people who want a slightly alternative wedding. It's put on by both our photographer (Assassynation) and my dressmaker (Jo from The Couture Company). It was brilliant and I'd highly recommend going - they even put on a party in the evening now!
3) Was the actual big day exactly as you first imagined? (Or did your ideas change along the way?)
The look and feel of the day was exactly as we imagined - just with rain instead of sun!
4) With hindsight, is there anything you spent money on, but feel was not necessary, or could have been done cheaper?
No - we really considered every option when booking suppliers or buying stuff. We didn't always pick the cheapest option, because we were going for quality and passion, which was really important to us. However, we knew a few of our suppliers and made our own buntings and fabric table flowers so this helped us save money, and kept us on budget.
5) How did you select your suppliers out of so many out there?
We picked the people that were the most passionate about what they do and the most interested in our weding, and helping to make it go smoothly. We went for the people we had the best feeling about, and it wasn't always the cheapest suppliers we went for, as they weren't always the best quality, or most interested in what we were going for. Overall, we went for the suppliers we trusted the most.
6) What would you say were there first few things to sort out / book for a style of wedding like yours?
Book the venue and bands ASAP - you can't have a festival wedding without the music or the infrastructure! We sent emails out to a band we were certain on, and the tent supplier on the same day. The band could only do one date that we could work with, and it worked for the tent supplier, so that decided the date we got married on!
(Jess:) After that, I would suggest to not to forget to book hair and make-up - I left this quite late as I was so concerned with everything else, but it's really important. Your hair and make-up, if you're anything like me, will give you a huge confidence boost, and you need to feel 100% confident in them to do a good job.
7) If you had to do it again, anything you'd do differently?
(Jess:) I would have made time to dig out our GoPro and put someone in charge of making sure it always had battery and SD card space - to film bits of the wedding that weren't captured by the videographer. I'd also have given a point and click camera to one of my bridesmaids to take photos once the photographers had left - we would've had photos of the third band, and of us both crowd surfing when Thrill Collins played the Dirty Dancing classic, 'Time of my Life'! It was the first time either of us had crowd surfed too, so it felt really special! There was also a fair bit of skanking during the headline set by New Town Kings, which we wish we'd captured on film, but they went on later in the evening after the videographer had left.
I'd also say, if something doesn't quite go to plan, make sure you speak up - a few things happened on our day that weren't quite what we'd planned with a couple of our suppliers, but I found myself in a 'Bride Bubble' and didn't speak up, which isn't like me at all!
8) How involved was the groom-to-be? To what extent should grooms-to-be be involved?
(Jess:) 100% involved in every aspect. We're a team and planned the day according to what we both wanted. I think it's best to both be equally involved. I did most of the admin, but we decided on all the suppliers, designs and bands (etc.) together.
9) What were your biggeset challenges, and what helped to make them easier?
Pressure to conform to wedding norms and missing out on cool stuff that was going on because we were saving or preparing for the wedding (too many missed gigs!). I loved being so busy, but this was definitely the downside for us. It helped knowing we were planning a wedding that we both really wanted and knew that everyone would have an amazing time!
10) And finally, what advice would you give to couples who are specifically planning a quirky or alternative wedding?
Write a 'day of' plan and circulate to all suppliers - especially photographers, videographers, make-up artists and hairdressers, as well as all bridesmaids and groomsmen, as they can help guests better that way if needed. We used Google Docs for this and it really helped. Start a budget spreadsheet as soon as you can to help keep you on track financially. I'd also suggest using experienced professionals for key jobs - I ended up having to find a hairdresser and make-up artist quite last minute as I originally decided to try to save money by going with people I knew. Closer to the date, I realised I'd taken too big a risk on such an important piece of the day when a trial fell through. It was very stressful and could have been easily avoided.
Have a call with your photographer in the week running up to the wedding to go through what group shots you'd like - we found this really helpful, as well as a run through with your videographer. If you can, have a 'day of coordinator' - ours was a colleague that I work with and she really helped things run smoothly, and stopped us from having to worry about when bands were turning up etc.
-------------------
Jess and Dan got married in a big top tent in a field in Gloucestershire, with a festival-themed wedding. The festival name was aptly 'Tie the Knot Festival'. Read more and view the amazing gallery here!
Photo credits: Assassynation
Blue Lily Magnolia makes bespoke bridal and wedding accessories, specialising in creating fabric flowers for your unique accessories. If you want to see examples of work, have a look at the gallery here.