A Rockabilly Wedding
Posted on
Last year around this time, I was contacted on Etsy for an amazing project to create a bouquet and other wedding flowers with a rockabilly theme. This fun wedding took place last summer, and here's a link to the Rock n Roll Bride's blog for the full details!
Photo of the finished bouquet by Assassynation, from the Rock n Roll Bride's photo gallery.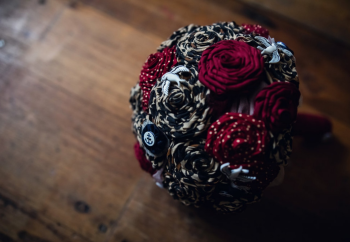 And watch the beautiful video by Rhubarb Martini on Youtube here.

--------------------
Blue Lily Magnolia makes bespoke bridal and groom accessories using fabric and other textile and textile related materials. I love to create unique items, so whether you have a wild and wacky idea or a modestly quirky one, get in touch!