Garters: A little bit of Trivia
Posted on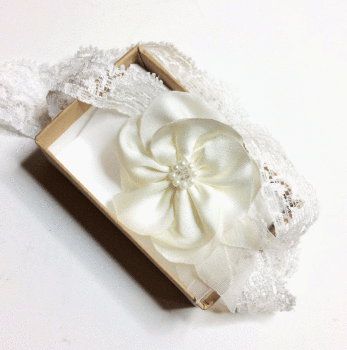 The next Blue Lily Magnolia handmade collection is a range of wedding garters. Made with stretch and non-stretch laces, a bit of blue fabric (for Something Blue of course), beads, crystals and ribbon, the bridal collection will be available by the end of January / beginning on February 2017. So, in light of the current work in progress, I thought I'd check out what the Internet has to say about them for a little bit of fun trivia:
A long long time ago...
... before the advent of elastic materials, garters were worn just under the knee.
... both men and women used to wear garters commonly.
... they were sometimes used by ladies to carry small valuables, in place of a purse.
... they used to be removed from the bride by the groomsmen as a prize at wedding ceremonies.
Some time ago...
... in 1888 precisely, during the first long distance automotive journey, Mrs Benz's garter was used to insulate a broken wire of the vehicle, invented of course by Mr Benz.
... at weddings, taking the bride's garter has some origins in the thought that taking an article of clothing of the bride would bring good luck.
... some believed that removing the garter was symbolic of deflowering of the bride.
... garters used to be worn at proms (mostly in the US, in the 60s and 70s), and if given to the date as a souvenir, it would be hung from the rear-view mirror.
And today...
... thankfully, groomsmen no longer rush to get it off a bride. Instead, it is taken off by the groom and tossed at the groomsmen. A bit more acceptable I say.
... the groomsmen who catches the garter is traditionally supposed to put it on the leg of the lady who catches the bridal bouquet.
... according to superstition, catching the garter signifies that that person will be next to be married.
... with a few exceptions, most women's garters are considered non-functional, and worn only as a tradition, fashion or for dressing up, but...
... men's garters are still available to hold up socks. Although they're not a very common occurrence.
... prom garters are still going strong in some areas in the US; the garters are worn in a colour and style that matches the prom dress.
... a 'garter and tie' dance at a prom is followed by the girl exchanging her garter with her date's tie, in a public designation of them as a couple.
So, whether you believe in tradition, superstition, or simply like the idea of wearing a garter, having a garter or tossing a garter for the fun of it, I hope that this little read has been interesting! Come back in a couple of weeks to check out what we have in store!!
--------------------------------------
Blue Lily Magnolia designs and makes bridal accessories, including bespoke items in colours and designs of your choice. My next collection is out end of January/ February 2017, a range of ivory and blue bridal garters, perfect as a gift to the bride-to-be for hen dos and hen nights, or even to build up your wedding lingerie stash. The collection will be available on my Etsy shop.
Source of trivia info: Shamelessly, Wikipedia :)