Bride, The Wedding Show, Tatton Park, 6-7 Feb 2016
Posted on
This weekend, I had the pleasure of visiting the wedding show at Tatton Park. A beautiful venue, with some great suppliers, and here are my thoughts of the event, and my favourite stands.
Show Overview
The show was great, lots to see - many dress and groomswear suppliers, music suppliers, venues, food, classic cars, flowers, make-up, accessories, venue dressing, planners, and of course plenty of photographers. There are always a lot of photographers in most wedding shows, so it's great to have a look at diffent styles. Likewise, there are always plenty of dress suppliers at a show, and this was no exception. Great to browse dress styles if you are still undecided. The show was also great to find a bespoke dress designer that reflects your style - there were quite a few of them.
However, for those who went there to try dresses on, only a handful of wedding dress suppliers had changing facilities, so for most of them, it was a display and network opportunity. I found that there was enough for me to look around (around 135 exhibitor stands), as personally I don't like to have to browse for hours, but my husband, who accompanied me with his critical eye, thought it was rather small. But that's because he's comparing with the large shows in Birmingham and London.
Wedding Dresses and Accessories Trends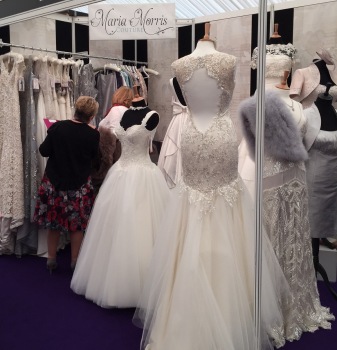 Perhaps because I am currently very inspired by vintage, I found quite a few vintage style dresses - 1920's styles, 1950's short full skirts, and lots of vintage inspired jewellery and accessories. This wasn't a vintage show, but the 'new' stuff was quite influenced by old styles. And there was even a fabulous vintage jewellery supplier exhibiting with gorgeous 1920's statement pieces.
The two piece dress was also quite popular. This is a fairly new thing, but I'm definitely seeing more and more of mock-two-pieces (a one piece dress that looks like a top and skirt), actual two pieces, crop top with a full skirt, or dress with a short top layered on top.
White has disappeared completely from the scenes now, and even ivory is now being replaced with its darker cousins - shades of cafe latte, very light coffee, light old gold, gold, and dark vintage ivory. Beading is rife! There was lots and lots of it, in many different shades of coffee, gold and silver. Just a couple of examples are shown in the stand on the left. Matching the vintage and darker tones, there were also lots of golden hair accessories, with a vintage look.
Food and Venue
In terms of cakes, another gone thing seems to be the classic fruit cake. Now it is lush salted caramel instead. Or a cheese three tiered cake. Both totally yum, depending on whether you have a sweet tooth or prefer savoury.
And the venue decorations! Phew, I didn't see a lot of minimalists there. Full on, decadent, bursting with quirky decorations, table and venues were definitely 'dressed' for a party. Small decorations were only accompanied by large displays (have a look at the snowy scene of orchids and hydrangeas by Red Floral Architecture below to show what I mean). And large displays were accompanied by even larger, fuller displays! Definitely lots to take in, and get ideas from.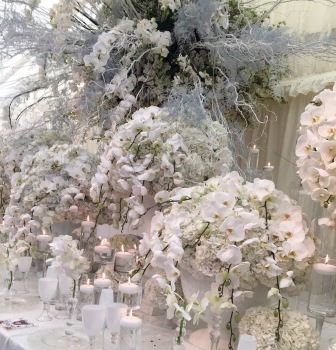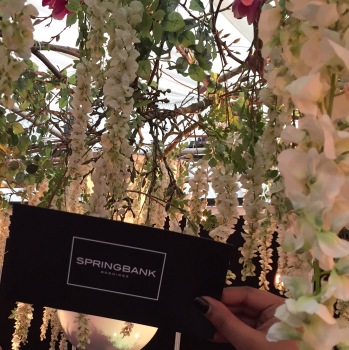 My favourite find of the day though, was menswear bespoke designer Richard Smith. How fabulous is this jacket and waistcoat set?!! That was worth the muddy walk through the fields over the rainy weekend, and the risk of our car being stuck in the mud and having to be pulled out.