A Bohemian Dream - a mini collection of gold and ivory boho bridal hair accessories
Posted on
This winter, I have been inspired by hot summer boho weddings to create my latest collection - and in particular soft flowing curves and curls, dreamy romance, and delicate shapes. I see each of the pieces of the collection sitting beautifully with long or short hair, with loose tousled curls or waves, with or without a modesty veil. With the romance of candle light, or snowy winter colours, the collection is just perfect to add a little bit of ivory and gold in your hair. And despite being designed for autumn or winter weddings, they'll look fabulous outdoors for a spring or summer wedding too.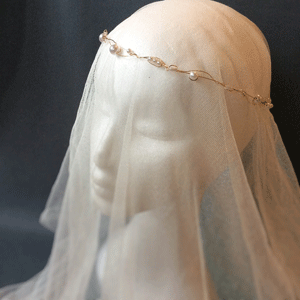 Normally I work mostly with fabric and textile materials, but this time I decided to experiment a little bit with wire, which I have had in my little box of tricks for years, waiting to be turned into someething creative! The base of this collection is ivory glass beads onto gold coloured wire, loosely and delicately twisted around and holding the beads. The simplest item is a bridal circlet with two rows of the beaded wire. Pure, nothing else added. It is elegant and discreet, perfect for those who love minimalistic styles.
The flowers definitely called for the second piece in the collection, which is a multilayer bridal circlet or crown with added vintage lace flowers. The cream lace used for these flowers was picked up from a vintage and collectable shop in North Wales. I love discovering vintage material that I can use for my new pieces, and this bundle of lace has already given me quite a number of flowers! With the addition of the vintage lace, this headpiece can also be used as the 'Something Old' for the bride.
The third item in the collection is a hand tied hair vine, which can also be just pinned in, if one doesn't like the ribbon tie back. Rather than sitting on the head crown, this piece can be placed a little bit further back if needed, or worn as a crown too. For this piece, the vintage lace was used to create a small cluster of flowers on one side. On the other side of the hair vine, a small cluster of leaves balances out the design.
And finally, the last item is a headpiece which can be worn as a bridal headband at the top front of the head, or worn on top of a bun or other sculptured piece at the back. Again, here the vintage lace flowers make an appearance, on one side of the headdress.
I love the delicateness of the combination of the wire and the beads, and that they're so flexible that they can be shaped around your head or style in a number of ways. I can't wait to see them on real brides!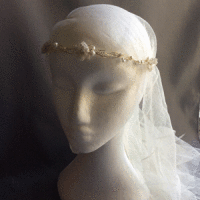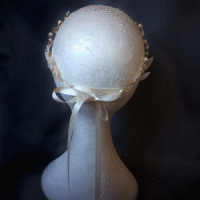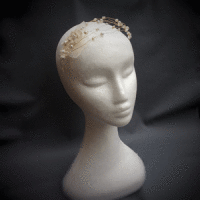 The four items above are all available from my Etsy shop, ready to go. And of course, if you would like something made specially for you, inspired by the above but slightly different and in your own style or colour, don't hesitate to drop me an email for a no-obligation quote.
-----------------
Blue Lily Magnolia makes bespoke accessories for weddings and other formal occasions. From bouquets of brooches and fabric flowers, to embellished sashes and belts, and of course bridal hair accessories, everything is designed and handmade in one-off or very limited editions. View ready-to-go and made-to-order designs on my Etsy shop, or get something bespoke made specially for you!