Top Tips for your Wedding Dress Fitting
Posted on
Whether you have an off-the-shelf dress, or a bespoke one made to measure, getting your dress fitted is one step closer to the reality of the big day. Your dress is one of the most important elements of your wedding, but more than just being something that looks great, you must also be able to feel amazing in it. And that's where fittings and alterations come in. In this blog, I share with you my top tips for making the most of your wedding dress fitting.
1) The Very Least
Once you have chosen your dress, you might have heard it many a times before, but there are three basic things that you need to make sure you have for your final fittings:
the underwear (essentially, your bra (if any) and shape-wear) you intend to wear on the day

your wedding shoes (or at least alternative shoes of the same height)

your petticoat or under skirt, if you're wearing any.
All of these affect your posture, the position of your curves, the length of your legs, the length of the skirt, and even your size. Bringing them along early ensures that there are no surprises on the big day.
2) Invite the Helpers Along
If you have a dress that you will need help to get in or fasten, it is nice to have someone accompany you on one of your fittings, so they become familiar with the best way of getting the dress on - bearing in mind that by the time you get in your dress, you will have full makeup on and hair done. There are little things that can make a difference, e.g. attaching the hook and eye fasteners first before the zip, how to make sure nothing gets caught in the zip, attaching the waist stays, ensuring all the layers of the skirt are pulled down properly, attaching a sash, making the perfect bow, etc. It is not a necessity to have someone along of course, but it does help alleviate the stresses of you, the bride-to-be, having to remember everything about the dress. In addition, if you have features at the back of your dress that need to be scrutinised during the fitting, it does help to have someone else look, rather than try to see yourself by twisting and turning in front of the mirror.
3) Take a Good Look at the Features of your Dress
When it's on the hanger, have a good look at your dress, inside and outside and ask questions at the fitting. Are there features in there that you don't know about? How do you make the most of the dress? For example, many strapless dresses will have an internal waistband to help hold the dress - have a look at how it is attached before you put it on. Are there loops and buttons to hold your train when you dance? Is any part of the dress detachable? Looking at the dress properly, you might also notice little imperfections that may be easily fixed before you pick the dress back up after your fitting.
4) Take a Seat and a Walk
It is easy to forget to sit down and have a little walk when you're trying your dress on - mostly, we just want to stand still when we look in the mirror. If you can though, it is a good idea to try walk around a little bit - you will notice if any part of your dress has a tendency to catch to your shoes or toes, or if there's something that doesn't feel quite right when you walk, or if you bend down to pick up something, put your shoes on, etc. Have a think of how you will be dancing in your dress, and ask the fitter for advice on how best to hold the dress then. Likewise, many brides-to-be have dresses that are quite snug when standing up (making them look great while standing up), but then find out that it's impossible to breathe in when sitting down. And you will be sitting down at some point, especially in front of a meal, making everything even tighter!
5) Plan when to Stop Losing or Gaining Weight (if you are)
This final point is of course only for those who are actively planning to change their weight (or those who tend to lose or gain weight with stress). Losing a little bit of your curves towards the end may not make a huge difference to the fit of the dress, but it is better to try to achieve a stable size at least 4 weeks before the wedding, and ideally for your final fitting. Check with your designer / dressmaker when they would need all your measurements to be final, and plan your weight loss accordingly, focussing on toning and stabilising instead of losing weight in the final weeks.
6) Take Photos
And finally, before you step out of the dress, take some photos of you in the dress, front, back and side, so you can be sure that everything looks right even after you leave the studio. If there is anything that you are unsure of when you get home, don't hesitate to re-arrange an appointment sooner rather than later!
That's it for today; hope that these tips are useful for you, and if you have additional tips based on your own experience, add your comments on!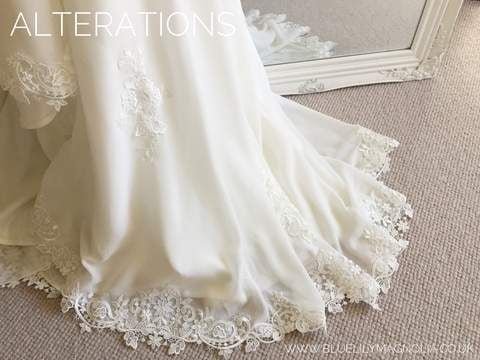 ----------------------------------
A first version of this blog was first published on the Restart Coaching website. Blue Lily Magnolia does bridal, bridesmaids and other alterations, bespoke dresses and custom made accessories. To enquire or book an appointment, email [email protected] or call/text/whatsapp Sharon on 07766766573.