Wedding Alterations: What should you consider?
Posted on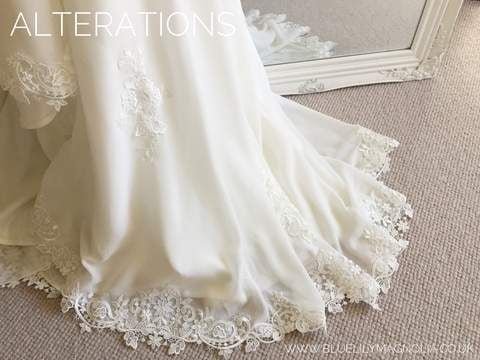 If you've bought your dress from a wedding dress retailer, and even if it's been made to order, chances are that you might need some form of alterations before you're able to walk in it comfortably down the aisle. But, before you book yourself an appointment with a dressmaker, here are a few things you need to do, just to be sure:
Firstly, buy your wedding shoes. Whether or not the hem of the dress needs taking up really depends on the height of your heels. Things get a little tricky if you are thinking of killer heels for part of the day and flat shoes (or removing your shoes altogether) in the evening. When you do remove the heels, your dress will drop to the floor and will need lifting up to walk and possibly to dance too. This may be a little price to pay for comfort, as fitting the hem to a flat shoe length is a no-go if you intend to wear heels when walking down the aisle and taking the official photos.
Secondly, make a decision on your underwear. If your bust needs a bit of filling up with a push-up bra, or if your waistline needs a bit of re-shaping with shapewear, make sure you get these bad boys and try them on with your dress - the need for alterations on the bust or waist area may disappear completely. Or vice versa. Underwear shopping for your wedding dress is actually quite a challenging task, especially if you do want to wear a bra, and have a fairly low back or backless dress. Ideally you want to be able to wear the bra under the dress to make a decision, but most of us think that we can't bring a wedding dress into the underwear shop. Can you? Perhaps a call to the shop prior to your visit may help solve this dilemna.
Thirdly, consider whether you are likely to fluctuate in size between now and the wedding date. If you are dieting for example, and think that you may lose more weight, it might be worth waiting a little bit longer before booking yourself in.
If, after considering all three points above, you put on your beautiful dress and find it too long or gapey in some places, then it's time to give a call to your dressmaker. Many will need several weeks before being able to complete the work, especially if your wedding happens in the peak seasons (spring and summer), so allow yourself plenty of time. In doubt, especially regarding point 3 above, give them a ring in advance to ask for their lead times. Most will be able to tell you if and when they can accommodate you and when might be the best time to visit them.
And for your visit, don't forget your underwear (especially bra if you are wearing one) and your shoes!
-----------------------------------------
Blue Lily Magnolia alterations: for wedding dresses, bridesmaids, and other formal occasion alterations for clients in the Nantwich and surrounding Cheshire areas.