Choosing your Wedding Colours - Ever Wondered what Each Colour Means?
Posted on
Early this month, I wrote about how to add a bit (or a lot) of colour in your wedding outfit, whether it is in the form of accessories, or in your dress itself. While writing up that blog, I met the lovely Chrisoula Sirigou, the Golden Muse, from Explorama, at a Bizmums networking meeting in Nantwich. Chrisoula is a colour psychologist, colour analyst, Colour Mirrors practitioner, teacher of the language and psychology of colour. At the meeting, she brought with her a few coloured bottles and when I went over to see her, she asked me to pick the one which appealed most. I did, and when she explained to me what it meant, it was rather quite spot on to what is going on in my life at the moment.
The colours that attracted me most then reflected my life situation. It makes sense that if you're happy you're going to pick happy colours, and vice versa. But as well as them being a way to mirror yourself, I also believed that some colours conveyed certain meanings and may therefore have subtle influences in a wedding. I decided then to have a more in-depth discussion with Chrisoula to see if I could follow on to my previous blog with one which give an indication of what colours could mean.
You can view my whole interview with Chrisoula here on YouTube, but here's a very short summary in this blog. Over nearly an hour, we covered the meaning of some key and popular colours, what some of the colour combinations from 2017/2018 wedding trends evoke, discussed some of Chrisoula's colour combination recommendations, and finished off with some advice for future brides, future grooms and couples.
If you're in the process of picking your wedding colours and are undecisive, perhaps some of this may sway you one way or another! And if you don't know where to start, why not have a look at Chrisoula's suggestions first.
Popular Single Wedding Colours
Red: Associated with true passion, not love, real passion, also brings in safety and security, the feeling of being rooted and connected.
Pink: A soft colour with a red base and a bit of yellow. Not as passionate as red, but provides a sense of unconditional love. Pink is a beautiful colour for a wedding and is also a way to show that you care for others, through romance, but also in a mothering way. Guests feel nurtured and welcome with this colour.
Purple: Has elements of violet and magenta, and says "I can have heaven on earth", or "I can have it all". You are here to enjoy everything and deserve everything in your life.
Gold or Silver: Have some of the strongest vibration energies of all colours, connecting you to your higher self, and bring out your authentic self. Gold is also the colour of prosperity.
Selected Wedding Colour Trends 2017/2018 - Combinations (source: Wedding Design Chic)
Turquoise and Lemon (Teal and Lemon): Turquoise and teal indicate heart-felt communication, connecting from your heart and expressing yourself from your heart. This colour brings flow to the wedding, while the lemon yellow colour is synonymous with joy.
Blush Pink and Gold: A very soft but powerful combination. The blush pink has a coral base, and coral is the colour of expansion, blessing the wedding with growth in life, love and of course family. Combined with the gold, this expansion is further enhanced, as gold brings the element of prosperity. From a personal perspective, coral says "I am loving myself as I am", and gold brings your authentic self out.
Rose Quartz and Serenity: Here we are bringing together the feminine (pink) and the masculine (blue). Serenity, which is similar to lilac blue and platinum, gives a sense of being impeccable with what you're saying, of walking the talk. It bring an element of authority, a confirmation that you are ready to do this, that you want to go ahead and be together. The rose conveys the message mentioned above about pink - the loving side, unconditional love and romance.
Turquoise and Coral: A better combination, in Chrisoula's view than turquoise and lemon as they are complementary. Heart-felt communication whilst expressing your love, and accepting yourself as you are. And of course we must not forget that coral is also the colour of expansion, which is always great in many aspects in the context of weddings and bringing together two people in love.
Suggestions of a Colour Psychologist!
Colour is obviously such a personal choice, and at the end of the day, as Chrisoula advises (and as I think too), weddings are all about yourselves as a couple and as individuals, not about what other people think, like, or their expectations. Nevertheless, for some inspiration, here are some great combinations from Colour Mirrors that Chrisoula loves and recommends, and why:
Magenta and Olive (or Lime): Complementary colours in the spectrum. Magenta, which contains a lot of red and a bit of violet, has ingredients of passion, connecting with everyone, and wanting everyone to be involved. Olive is the colour of feminine essence, and the two work beautifully together, with accents of other colours such as ivory. This combination is called Love, Money and Creativity in the Colour Mirror range.
Serenity and Olive: As mentioned above, olive equates to the feminine essence and brings out the feminine side, and serenity (blue lilac / platinum) actually brings out the masculine element, the two balancing each other beautifully.
Magenta and Gold: Here, the passion and connection with everyone is supplemented with the prosperity of the gold colour.
Silver and Rose Pink: Bringing in the coral pink here in this combination, the colours are blessing your day with expansion in life, love, family, etc., while the silver connects you to your higher self. This combination is called the Tree of Love!
And Some Final Words of Wisdom
Our interview ended with me asking Chrisoula her advice for couples who are planning their wedding. A wedding "is an experience, and you want to feel special on the day, and afterwards, but equally, you want your guests to have a memorable day too..." Her advice was "...to create that space, to not get into a rush, to take your time, to feel into it..."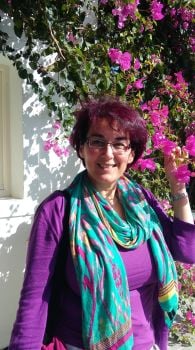 Thank you to Chrisoula Sirigou for her time to discuss the meaning of colours in the context of weddings. Find out more about her expertise and current activities here. If you would like to contact her to discuss more, or to help you in your decisions, her email address is: [email protected] Chrisoula offers Colour Consultations and Colour Vision readings in person and online.
--------------------------------------------------------
Blue Lily Magnolia makes bespoke and unique bridal accessories, including wedding belts and sashes, headpieces, keepsake bouquets, corsages, boutonnieres, etc. To have a browse at some of the designs, click here.
Images: The moodboards are from Wedding Design Chic, images of the coloured bottles are from the Colour Mirrors website, and Chrisoula's photo is courtesy of Chrisoula herself.