Making the Most of Wedding Fairs
Posted on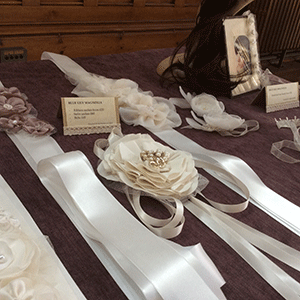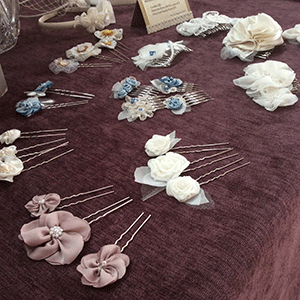 September and October are the autumn wedding fair seasons and I have attended quite a few this season, to see what's going on in the wedding industry, check out what's new, meet some suppliers and brides-to-be, and just have a little day out too. The first wedding fair that I ever attended was the National Wedding Show in Birmingham, before I got married, and it was massive! (And dare I say, expensive, but worth it somehow). Everything else after that has seemed rather mild in comparison, but here's my take on making the most out of wedding fairs.
Plan ahead: If you are attending a very big fair (by that, I mean a fair with hundreds of exhibitors rather than dozens), these are normally paid ones, but if you know suppliers who will be going, they may have complimentary tickets that they will gladly offer to you. Alternatively, often there will be some kind of promotional code to look out for to get a discounted price. It is worth getting a ticket in advance if you want to save a few pounds from the at-the-door tickets. And for large fairs, allow a good few hours to browse through everything.
Think about what you are looking for: It is perfectly OK to just browse without any intent, but if you want to make the most of the fair, write down a list first on what you would ideally like to find - photographers, cake makers, dresses, etc. If you can't find what you are looking for, you could always ask around at the fair anyway, and often people are happy to help and provide recommendations.
If you want to try dresses: Wear a strapless bra if possible, or at least one which allows you to tuck the straps in. Often the dresses that you will try will not fit, so be prepared to be open minded about this, and see beyond the poor fit. Bring your diary if you would like to follow up with a booking, and take plenty of photos (with a note of where each dress came from and their price) to be able to compare when you're home.
If you're just browsing: If you can, take photos of what you like, with the business card of the supplier next to the item that you like. It is so easy to forget who made that ideal sweet cart, or table plan that you loved at a fair. It is always good practice however to ask permission to take a photo - remember that no one wants their work to be copied. And please whatever you do, don't use the photos to ask others to reproduce an item at a cheaper price!
Don't be scared to talk to suppliers if there's something that you're admiring in their work or feeling curious about: If you're worried they'll pounce on you with a sale, you can gently tell them that you've already got whatever they're selling. If you like something they have, it is always nice to start a little bit of a conversation and who knows, perhaps they might give you some ideas on other items that you haven't yet sorted out, or advice on your wedding, or they might be able to solve another problem that you have. Or you may even get some sweeties or a little giveaway out of it!
Go round the stands at least twice: First time round, just have a look around to see who's here, and what they do. Go round again the second time with a list in your mind of who you actually want to speak to and what do you want to ask them.
Catch the Catwalk: Plan your arrival and departure such that you will get a chance to see the catwalk, if there's one. Even if you've already got a dress, have a look at the ladies on the catwalk to see the dos and don'ts of walking down the aisle in your dress!
If you do book anything: Remember to ask how long is your cooling off period, and when do deposits need to be paid. Most suppliers will give you a cooling off period of between 1-2 weeks (unless your order is short notice) to allow you to change your mind, but if you have a made a deposit payment, be clear on whether you will get this back if you cancel within the cooling period.
When you get home: Don't chuck these leaflets straightaway, who knows, you might find a little gem in a few weeks when you need it! A good way to not lose contacts is to use social media to Like or Follow suppliers you think might be of interest in the future.
And that's it from me for wedding fairs!
If you have some more advice to add, please comment!
--------------------------------
Blue Lily Magnolia makes bespoke bridal accessories and accessories for special occasions. Based in Nantwich, Cheshire, UK, everything is designed in-house and handmade, creating unique pieces.