What to look for in a bespoke designer?
Posted on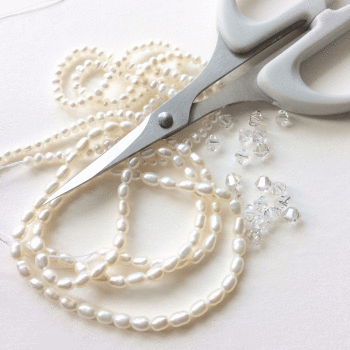 Sometimes, you just can't find the thing you want, in shops, online, anywhere. It may be that you have seen something in the right shape, but not the right colour, or vice versa, or it could be that what you are looking for simply hasn't been created yet. The answer to that is of course to have it made specially for you - a custom, bespoke order. But what should you be looking for in selecting the right designer? Whether it is a dress designer, or one for shoes, hats, accessories, jewellery, these points should always be considered:
- How close to your style is the designer's existing work? If you have something in mind already, does it roughly match the type of things the designer has already done? If you found something that he/she makes but just not in the colour or size you want, that's perfect, but if their style is more shabby chic and you're looking for an ultra modern effect, think twice.
- How much bespoke work does the designer do? The more bespoke experience, the better it should be for you, simply because he/she will have learnt from prior experience what works and what doesn't. By all means, this doesn't mean that no bespoke experience is bad, but experience will give you a smoother process. You could ask to view pictures of previously completed bespoke pieces, and even better, if the reviews on bespoke services are great, it is a good sign.
- How is the initial communication between you and the designer? If it is prompt, courteous, not full of grammatical errors, and with a positive tone, it is a good start towards making sure you will have a positive experience.
- Does the designer 'get' what you're saying? Sometimes, if you have to work too hard to get a message, a concept or an idea across, be mindful. You may be surprised or disappointed at the end when the outcome is totally different to what you expected. It helps if you could explain your ideas visually, for example using a Pinterest board, or showing them pictures of the styles you like, and see how he/she responds.
- Is the designer going to bring something to the design? Asking someone to just copy an existing design is a big no-no for any self-respecting designer. As a designer, I am happy to take inspiration from other people's work to create something unique, but copying is unlawful.
- Is the designer happy to share pictures of work in progress if you so wish? Not everyone is interested in being kept in the loop at every stage, but if you are, will you be?
- Can the designer deliver on time? This very much depends as well on how long you are giving them! Always ask about the timeline, and if it is a rush order, try to get reassurances that the order can be completed on time.
- How are payments made and what are the terms? A deposit is very common, and often this is non-refundable. Payments using well known channels, with an invoice and receipts are always better. Run a mile from anyone you don't really know asking for a cash deposit, particularly if there are no receipts. Make sure you understand all the payment requirements, e.g. when next payments will be due, how much, whether there might be additional payments over and above your original quote, etc.
And finally, how do you feel after talking to or messaging the designer? Confident? Excited? If that's the case, go for it!
Blue Lily Magnolia makes bespoke bridal accessories, and accessories for formal wear, bridesmaids, mother-of-the-bride, etc. If you have any other good pointers for people on what to look for in a bespoke designer, please share!