Autumn Leaves - New Hair Accessories Collection
Posted on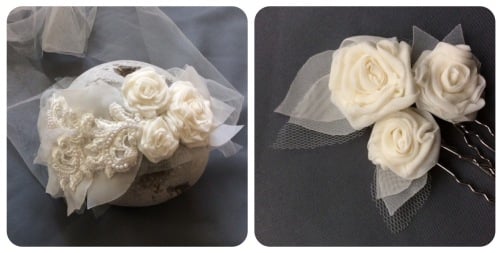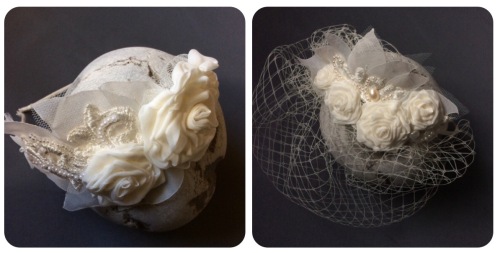 Launching here first: the Autumn Leaves Bridal Hair Accessories Mini-Collection
Inspired by the falling leaves and in anticipation of snow and the cold weather, this small collection of bridal hair accessories brings together ivory fabric roses, sheer chiffon leaves, lace and beads and freshwater pearls into a handmade visual feast.
The flowers and leaves, delicately assembled, can be worn as a hand-tied soft tulle headband - for a relaxed boho style, great with long flowy hair. They can also be worn as a birdcage with a skinny headband for a vintage effect, perfect with a short dress or short hair. Or simply as a standard skinny headband, versatile for different hairstyles and a range of dress types. Each item is totally unique, although matching in style and theme.
The headbands are supplemented by simply beautiful hairpins of roses and leaves - perfect for scattering a few flowers in an updo. Custom designs in this style can also be made, and attached onto various other hair accessories, such as combs or clips.
"For this collection, I wanted to create size without heaviness, and the sheer chiffon leaves provide just the type of lightness I was after while the roses provide the stability of the hair piece. As with all previous collections, this one will also be limited edition or one-of-a-kind."
The collection will be made available on Etsy in the next few days, but if you would like to make an enquiry before they are listed, please contact me.