Learn to sew: what you need to get started...
Posted on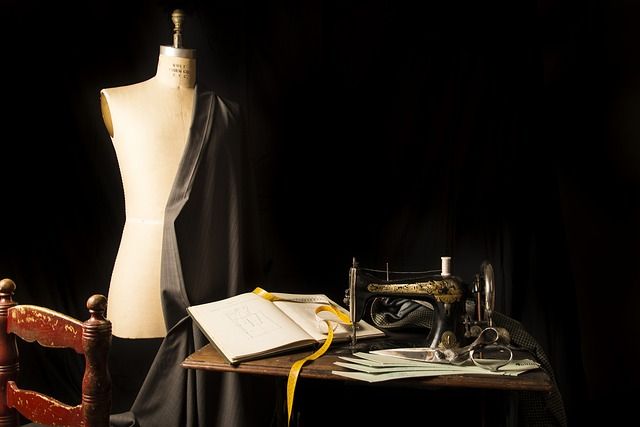 Has the Great British Sewing Bee inspired you to learn something new this year? Or encouraged you to pick up a long lost creative hobby? You are not alone! Being able to make your own creations and manipulate fabrics to your heart's desires can be extremely rewarding - we all need to feel a little bit creative in life, no matter how small the project.
In this blog, I want to pick out a handful of my must-have 'tools' for learning to sew. There are tons of accessories and tools out there for beginners and professionals alike, and generally, I find them very useful because they've actually been developed to help us do things better. But, let's be honest, as much as I would love to have everything, like a kid in a toy shop, the reality is that 1) my house is not big enough for everything, 2) unfortunately I don't have an endless supply of cash and 3) if I can get by without, do I really need it?
My first must-have would have to be a good pair of fabric scissors. Ask any dressmaker, professional or not, and they will tell you the horror of seeing someone use their fabric scissors to cut paper or other things. Your fabric scissors should be for a single use only - to cut fabric and threads!! It should have a blade of a decent size that enables you to cut large pieces of fabrics with ease, but not too big and heavy that you can't control it.
Pins and needles (not the physiological variety) are next on my must-have list. I use pins to hold things into position, as well as to mark the position of folds, seam lines and the like. The floor of my house often has the odd pins and for this reason, I recommend the pins with round coloured heads - much easier to spot when they fall or they find themselves in a place they shouldn't be! As far as needles are concerned, a small range is great - thin ones for delicate fabrics, and sturdier ones for heavier weight fabrics.
Sometimes I use a ruler (I have various types, various lengths, shapes and materials!) to measure things up and when I'm marking fabric, but most of the time, it's a tape measure. So that's my next must-have. You can actually take a measurement of any circular part of your body (waist, hips, bust, etc.) with a piece of string and a ruler, but it's a bit tedious and prone to mistakes, so forget that idea and grab yourself a tape measure. It will not break the bank...
A sewing machine.... As someone getting back into sewing, or starting to learn, a standard size machine will be your biggest investment early on in this adventure. I would not recommend buying a mini machine simply because they're so limited. Any other regular machine that's able to do at least basic lockstitch, zigzags and buttonholes is a great start. Of course if you want more advanced features such as embroidery and other stitching styles, go for it.
The final thing that is needed, but that hopefully you should already have is an iron. A steam iron would be better (and an ironing board is always handy of course). Pressing and ironing are often underestimated in dressmaking and sewing but it is amazing how much it can transform the finish of your creation, as well as make things easier to handle.
Finally, two little things that are technically not must-haves, but for me are absolutely essential. A thimble and an unpicker. The first is because my fingers are so sensitive that if I use a needle without a thimble, I literally get needle holes in my skin! The second is that as an alteration lady, I often need to unpick seams. Small pointy scissors do the job too, but an unpicker is just the best. Not to mention that for cutting out buttonholes, they're really useful too.
So here we are, my must-haves to get started with sewing! What are yours? Have I missed anything?
-------------------------------------
Blue Lily Magnolia - for bespoke dresses and alterations, based in Nantwich, Cheshire. I also offer private sewing classes to cover topics of your choice, from the very basics to get yourself started, to more advanced techniques such as corsetry. Get in touch for more information by calling Sharon on 07766766573 or email me at [email protected] or check out this page here.